Christine Marquard, DDS
Dr. Christine Marquard has over 15 years of experience working as a dentist in central Ohio. She is thrilled to be a part of the wonderful team at Marquard Dental and is looking forward to providing high-quality standard of patient care.
Both of Dr. Marquard's degrees are from The Ohio State University; graduating with a bachelor's degree in pharmaceutical science in 2003, and a doctorate in dental surgery in 2007. She is a member of the American Dental Association, Ohio Dental Association, Columbus Dental Society and the Hocking Valley Dental Society. Dr. Marquard believes the key to providing excellence in dental care comes with continued learning in the field.
"I deeply care about my patients' health and happiness. I'm committed to providing the smile they've always wanted. In order to constantly offer optimal care, my team and I utilize the latest technology and techniques available. We constantly take advantage of continuing education opportunities to further our dental skills." In addition, Dr. Marquard is an Invisalign provider, administer botox treatments and has experience with smile makeovers and implant restorations.
Gregory D. Lisk, D.D.S.
Dr. Lisk has over 30 years experience caring for the families of Pickerington, Reynoldsburg, and all of the Central Ohio area. Dr. Lisk established his family dental practice in 1978 after graduating with honors from The Ohio State University College of Dentistry.
Dr. Lisk is a member of the American Dental Association, The Ohio Dental Association, The Hocking Valley Dental Society, The Academy of General Dentistry, The Academy of Cosmetic Dentistry, & The East-Side Dental Advisory Board.
Dr. Lisk had completed advanced certification for Invisalign orthodontic therapy, for mini-implant placement, and for advanced endodontic therapy. He has advanced dental training in Crown, Bridge, & Implant reconstruction at the prestigious Clinical Research Institution at Provo, Utah. Dr. Lisk has also been a contributing clinician for the CRA Foundation and an instructor at the Ohio State University.
Dr. Lisk's earned his undergraduate degree in mechanical engineering at The Ohio State University where he also graduated with honors.
Dr. Lisk has been happily married for 36 years to Ann Lisk, a retired school teacher in the Pickerington School District. Mrs. Lisk taught 5th grade at what is now Heritage Elementary & Diley Middle School. They have three children, all graduates of the Pickerington school district.
The Lisk's have always been & continue to be active in the Pickerington Community including the Pickerington school system, the Pickerington business community, and their local church. For 30 years they have supported and contributed to local athletic programs, the arts, the senior community and more.
Dr. Lisk prides himself and his office team with blending both years of experience & expertise with the latest cutting edge dental technology. We look forward to serving the community for many years to come.
Kelly, RDH
Kelly has been a Registered Dental Hygienist for almost 15 years and loves what she does. Providing exceptional patient care is her main focus while maintaining a comfortable environment. She has been Dr. Marquard's Hygienist for 10 years in Pickerington and Lancaster. Kelly is a long time Pickerington resident where she lives with her husband, Eric and 3 children. When not brightening smiles, Kelly enjoys spending time doing Church and community activities.
Elisa, EFDA
Elisa has been a part of Dr. Lisk's team since 2003. She has been utilized in several different positions in the office, but has settled in her favorite one as a clinical assistant. The Dental Assisting National Board has licensed her as a Certified Dental Assistant (CDA), and Expanded Functions Dental Auxiliary(EFDA) in 2021. Becoming a CDA and EFDA involves extensive training in exposing dental radiographs, infection control, sterilization techniques and general chair-side assisting. She is experienced with fillings, crowns, bridges, root canals, oral surgery and more. She is also certified in Invisalign procedures and techniques and all forms of CPR. Elisa truly enjoys her profession and takes pride in all her assignments. She values continuing education and really appreciates every new aspect of dentistry she gets to take on! When not at work, Elisa's favorite thing to do is spend time with her family. She has a very large extended family, but the immediate family consists of her husband, Randy; their son, Slate; their dog, Jaxon; her parents, Randy and Susie; and three brothers, Damon, Zeke, and Reese. She is also active in the community spending many hours each week in a volunteer ministry work that is very important to her.
Caity, EFDA
Caity joined the practice under Dr. Lisk in 2003. She is a DANB nationally Certified Dental Assistant. In 2013, she attended the Ohio State College of Dentistry and obtained her EFDA license. Her skills include placing fillings, adjusting occlusion, applying sealants, fabricating temporary crowns and bleaching trays, coronal polishing, monitoring the administration of nitrous oxide, and taking radiographs, to name a few.For Caity, the most enjoyable part of her job with Marquard Dental is getting to know families and watching kids grow up. Making people feel comfortable in the dental environment is her ultimate goal. She also loves the teamwork aspect of her job and feels blessed to be a part of the Marquard Dental family. Caity is a proud firefighter wife and "boy mom" to three sons. Her family resides in Canal Winchester, along with their English Bulldogs, Ruby and Olive. Outside of work, she loves spending quality time with her family, road trips, cheering on her kids' sporting events, being involved in school and church activities, trying new restaurants, and participating in bulldog breed preservation clubs
Katelyn, EFDA
Katelyn has been in the dental field for over 16 years. She attended The Ohio State University to receive her EFDA license, which allows her to perform restorative procedures. Katelyn takes pleasure in meeting new people and repairing their smiles. In her free time Katelyn enjoys spending time baking, mushroom hunting and utilizing her other license as a nail technician.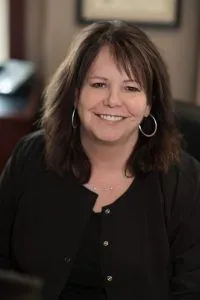 Jackie - Office Manager
Jackie has been employed in the dental industry for 15 years. She enjoys working in the dental office in both administrative and clinical roles. Jackie has been married to her husband Phil for 23 years. She has a daughter Carly, a son Tony, and two grandchildren, Braelyn and Noah. Pets include two dogs, Peyton and Tyson, and a cat Daisy. Jackie enjoys spending time with her family.
Nila, Business Coordinator
Nila is a graduate of Iowa State University and received her Master's Degree in Education Administration from Ashland University. Previously Nila worked as a teacher, administrator, and as a broker for a foodservice marketing company. Currently Nila handles the accounting responsibilities in the office. In her spare time Nila enjoys cooking, traveling and spending time with her two daughters and husband, Tom.
Lise, Receptionist
Lise has been in the dental field since 2011 when she graduated from Eastland-Fairfield Career Technical Center with her certification in Dental Assisting and Radiology. Throughout her career she has worked in many aspects of dentistry including clinical, billing, treatment planning and insurance coordination. Marquard Dental welcomed Lise in April 2018. During her free time, Lise enjoys spending time with her family, cooking, camping, hiking, kayaking and jewelry making.
Erin, RDH
Erin is a registered dental hygienist and joined Marquard Dental in 2019. She graduated top in her class from West Liberty University, WV in 2007. She enjoys getting to know her patients and helping them improve their smile. Patient comfort is her top priority while providing the best quality of dental care. She has several family members in the dental field which helped her choose this profession.
Erin is an Ohio native and has been living in Pickerington since 2010 with her husband, Charles. They have 2 children, Hunter and Sayler, and another baby due in November 2022. In her spare time, Erin loves to travel and spend time with her family.
Samantha, RDH
Samantha joined Marquard Dental in May of 2020 as a registered Dental Hygienist. She graduated from Youngstown State University in 2009, earning a degree in Applied Science. With over 10 years of experience in the dental field, Samantha's first priority is always making her patients comfortable. She does this by focusing on good oral care, sprinkled with humor.
Samantha resides in Pataskala with her husband Josh, along with their two children, Henry and Lena. As a family they enjoy camping, vacations and spending time together.
Julie, Dental Assistant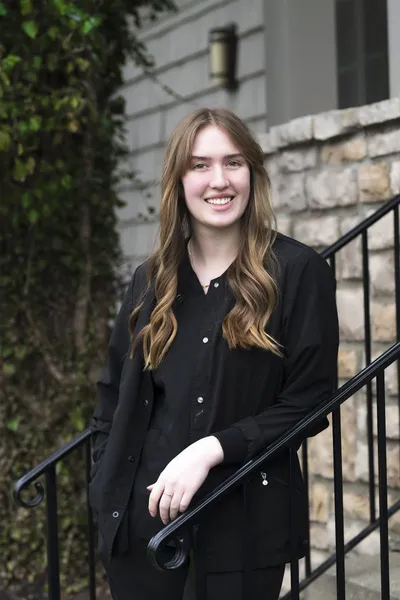 Julie is a dental assistant who graduated from Eastland-Fairfield Career Center. She joined Marquard Dental in the summer of 2020 When not at the office she enjoys spending time with her friends and family, volunteering in ministry work, and spending time outside.
Gilbert, Team Mascot
Gilbert is our patient-support office dog and team mascot. He enjoys being around patients and staff.